Coyote's Youth Competitive Team program has been developed to help top young athletes reach their competitive climbing goals at regional, national, and international levels. The small group size allows for one-on-one coaching and individualized training from experienced, accomplished coaches to best prepare each climber to meet the mental and physical challenges of climbing comps.
Session information
9 month season begins in the Fall
Programs runs 3-4 times a week
12 spots max. available, by invitation or try-outs
$500+hst – includes membership for the duration of the season, so team climbers can come in and train any time
YVES Gravelle – Youth competitive team head coach
[GDC_row]
[GDC_column size="third"]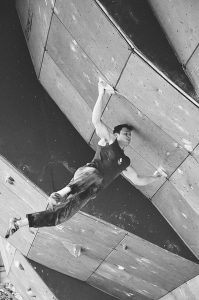 [/GDC_column]
[GDC_column size="two-thirds"]
In the 12 years that Yves has been climbing, he has been an eight-time member of the Canadian National Climbing team and has competed at national and international levels. He is a multiple-time Provincial and Eastern Canadian Regional Champion, has placed 2nd in the Canadian Bouldering Nationals, and 26th in the world at the IFSC World Cup in Vail, Colorado.
Yves performs equally well on the real rock, having sent boulder problems up to V14 and establishing some of Eastern Canada's hardest boulder problems, including the region's first V13s (Certified Gangsta, in Edelweiss ON). Most of Yves' first ascent climbs still waiting for a second ascent.
Currently, Yves is focusing his attention on his new passion: coaching the next generation of Canadian athletes!
Yves has been coaching the Coyote Youth competition team since 2014. The Coyote Competition Team has a reputation of being one of the best in Canada, with athletes earning spots on the Canadian National Climbing team, crowned National Champion, and competing in World Championships and IFSC World Cup events.
[/GDC_column]
[/GDC_row]